Did you know oyster shells can, and should be, recycled? I recently learned that the Virginia Oyster Shell Recycling Program is active in Charlottesville. Why is this a thing, you ask? Read on…
The wild Eastern Oyster, or Virginia Oyster, in the Chesapeake Bay is in trouble, due to pollution, over-harvesting, and loss of habitat. The population is estimated to be 2% of the historical peak; that not only hurts the local coastal economies, but impacts the Bay ecosystem.
Why are oysters good for the Bay?
Oysters serve two important functions in the Bay. They are little water filters, straining particulates and nutrients from up to 60 gallons of water a day. Removing particulates, such as suspended sediment and algae, clears cloudy water and aids the growth of aquatic grasses, a habitat of young fish and crabs. Nutrients like phosphorus and nitrogen from fertilizers are washed from farmland into waterways and eventually into the Bay, where they can cause algal blooms or dead zones, blocking sunlight and sucking oxygen out of the water. Secondly, oysters tend to grow in stacks, creating reef habitats for fish, crabs, grasses, and the oysters themselves: young oysters attach to the oyster shell reefs to grow and mature. Offshore reefs help buffer the shore from waves, limiting erosion, and as the shells decompose their calcium carbonate helps to regulate the pH of the water.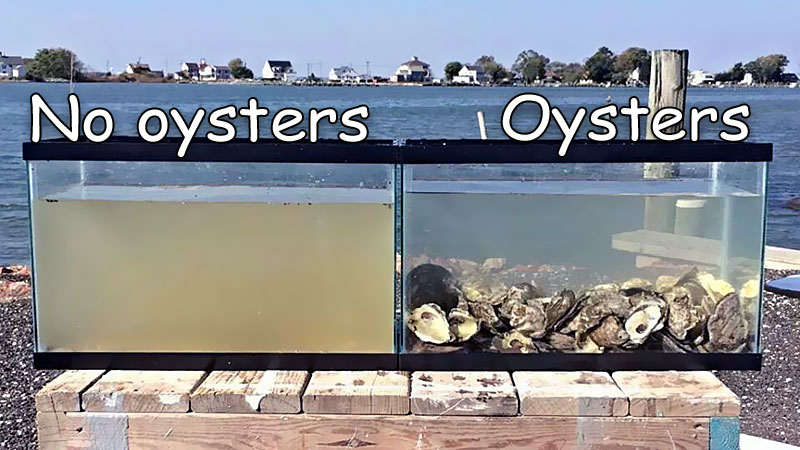 How does recycling oyster shells help?
To help revive the oyster population in the Bay, the Virginia Oyster Shell Recycling Program (VOSRP) collects shucked oyster shells from participating restaurants around the state, cleans them, seeds them with baby oysters, and returns them to oyster sanctuaries in the Bay to help build up the important reef habitats. The program was started by Virginia Commonwealth University's Rice Rivers Center in 2013 with the help of several Richmond government and environmental groups and a few local restaurants. It's now active in Charlottesville, Hampton, and Newport News, and is working to expand into other Virginia cities.
Instead of sending oyster shells to the landfill, restaurants dump shells into VOSRP-provided buckets, which are picked up by volunteers and emptied into a central receptacle, where they await transport east.
Which restaurants in Charlottesville are recycling oyster shells?
Currently in Charlottesville, Rocksalt, Public Fish and Oyster House, Fossett's at Keswick Hall, Boar's Head Inn, and Blue Light Grill are participating in the VSORP. Patronize those restaurants to show your support for oyster shell recycling! And if you visit another local restaurant serving oysters, ask them if they know about the VSORP.
Read more about Bay oysters and the VSORP:
http://www.vcu.edu/rice/education/vosrp.html
http://www.vmn-rivanna.org/2015/10/19/call-for-volunteers-virginia-oyster-shell-recycling-program/
http://cbf.typepad.com/bay_daily/2014/01/saving-shells-saving-the-bay.html
http://www.bayjournal.com/blog/post/moving_12000_pounds_of_oyster_shells
http://www.richmondoutside.com/2014/01/six-tons-of-oyster-shells-moved-for-chesapeake-bay-restoration/
http://www.bayjournal.com/article/large_scale_oyster_restoration_under_way_in_6_tributaries